Shamrock Foods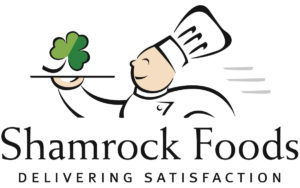 We Are Proud to Announce that Shamrock Foods is a Founding Sponsor of the American Master Chef's Order!
Shamrock's founding family, the McClellands, have owned the company since 1922. And even though we're a nationally ranked foodservice distributor, we still believe in treating our associates as family, and customers and suppliers as friends.
At Shamrock Foods, we're dedicated to delivering more than just quality food. You can also count on us to deliver ideas, inspiration, partnership, expertise and a can-do attitude.  From marketing resources to business reviews to food cost evaluations, our experts can work side by side with you to optimize your menu and operations.
We are proud to support the communities we call home. Shamrock Foods Company is a significant contributor to organizations across the country by supporting more than 80 non-profit groups – many of which are education-focused – and donating more than 450,000 pounds of food annually to local food banks.
Visit us at www.shamrockfoodservice.com

Matt Ryland
Shamrock Foods Colorado
5199 Ivy St. Commerce City, CO 80022
Arizona Home Office
3900 E Camelback Rd Ste 300 · Phoenix, AZ 85018