American Culinary Federation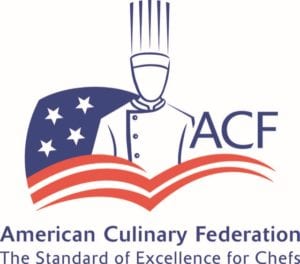 We Are Proud to Announce that the American Culinary Federation is a Partner of the American Master Chef's Order!
The American Culinary Federation, Inc. (ACF), a professional, organization for chefs and cooks, was founded in 1929 in New York City by three chefs' organizations: the Société Culinaire Philanthropique, the Vatel Club and the Chefs de Cuisine Association of America. Since our inception, little has changed in our principal goals. We are an organization based on promoting the professional image of American chefs worldwide through education of culinarians at all levels.
In 1976, ACF forever changed the culinary industry by elevating the position of the executive chef from service status to the professional category in the U.S. Department of Labor's Dictionary of Official Titles. Since this change, the culinary industry and our organization have grown tremendously. Today, ACF is the largest professional chefs organization in North America. We are made up of more than 17,500 members who belong to over 150 chapters in four regions across the United States.
ACF Certification adds value to the certificants, employers and the public. With thousands of chefs competing in the job market, it is essential to prove your culinary competency. Certification through the American Culinary Federation demonstrates skill, knowledge and professionalism to the food service industry.
The CMC® level is the highest and most demanding level of achievement of all ACF certification levels, granted only after the candidate has passed an intensive 8-day test of culinary skills and knowledge.
Visit us here: